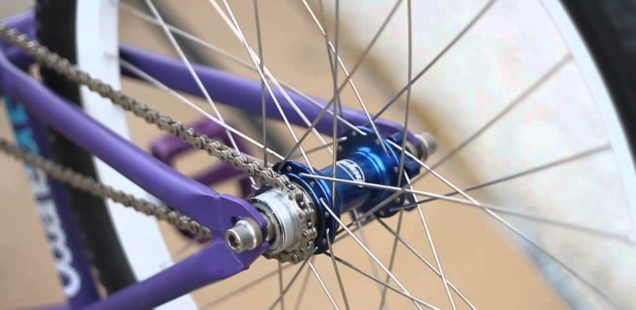 Single Speed Wheelsets and Hubs
Whether you're are a weekend warrior or you race at the SSWC each year, there comes a time when every single speeder can't resist the urge to buy or build a wheel that is made for just one gear. Is now your time?
Single speed wheelsets really are no more than a traditional wheelset that uses a single speed specific rear hub, rather than a multi-geared cassette hub found on most complete rear wheels.
Benefits of Single Speed Wheelsets and Hubs
The benefit of a single speed rear hub is mainly one of wheel strength. With wider spoke spacing and a more symmetrical hub, a single speed wheelset can be built stronger than that of a traditional rear wheel. That and, they look cool and show your commitment to the single speed cause.
As you will see further below, flip-flop hubs can also provide flexibility for those wanting to try riding fixed gear without committing to it full time.
Do I Need a Single Speed Specific Wheelset Then?
Well, no. If you are on a budget or only interested in necessity, simply convert to single speed on the cheap and enjoy your new found one speed freedom. For most cyclists, a standard geared cassette hub will work fine so long as they take the time to set their chainline correctly and keep their chain tensioned and lubed.
Below we will cover the different type of hubs used in single speed wheelsets, but if you know what sort you are looking for, skip straight to the wheelset section below.
Types of Single Speed Hubs
Flip-Flop Hubs (Fixed/Free)
Also known as "fixed/free hubs", flip-flop hubs are threaded on both sides; one side for a track cog, and the other for a single-speed standard freewheel. For those not using disk brakes and are wanting to try a fixed gear bike, a flip-flop single speed hub gives you the option to swap back and forth while you the fixie thing doesn't work out, allowing you to quickly change between "fixed and free" by manually by reversing the rear wheel. They are the most versatile single speed wheelset configurations you can get, but no good to you if you're running disc brakes.
As the legend states, "The usual way to use a flip-flop hub is to have a fixed gear on one side, and a single-speed freewheel on the other. The freewheel sprocket is larger than the fixed sprocket, providing a lower gear." This gives you the opportunity to climb for longer at a lower gear ratio than the fixed gear provides. By using a larger freewheel gear, you also have the opportunity to coast on on steep descents.
Though much less common nowadays, some older BMX hubs were also referred to as "flip-flop hubs". Rather than being threaded for track cogs, they were made to suit a smaller 14T BMX freewheel. It is possible to find them with track threading on both sides, but they are not as common as they used to be.
Popular flip-flop hubs include:
Because of the wide number of uses for these hubs, remember to make sure that the hub spacing is correct for your frame when purchasing a flip-flop hub. Keep in mind however, that most bolt on hubs can be re-spaced to sit correctly in your frame.
Threaded (Freewheel) Single Speed Hubs
Popular on higher-end non-fixed road bikes and single speed mountain bikes using disk brakes, threaded single speed hubs allow the use of a single freewheel to be threaded onto the hub. Commonly known as "track hubs" (without the flippin' and the floppin'), this is probably the most elegant and potentially the most expensive route for building a single speed wheelset and perfecting your non-fixed single speed drivetrain. Given the number of options available on the market though, it's clearly popular.
Non-Disc Track Hubs
Some of our favorite threaded single speed hubs include:
Threaded Disc Single Speed Hubs
For the mountain bikers, disc single speed hubs come in 135mm spacing, so there's a lot less hassle with setting them up in your single speed frame. These were a lot more popular before single speed cassette hubs became commonplace. If you are hunting for a threaded disc SS hub for your single speed wheelset, consider trying the used market. Failing that, take a look at some of the following options:
Disc Single Speed Cassette Hubs
Found on high-end dirt jumpers, the best pump track bikes, cross country and all-mountain single speed bikes, disc single speed cassette hubs feature a 6-bolt disc flange to attach a rotor. More importantly is their narrow but otherwise standard freehub body or micro-drive system. These allow you to cheaply and easily swap out cogs for different gear ratios depending on courses you are racing on, or just working out your perfect gear ratio. It's a great option for those that aren't 100% sure on their chosen gear ratio but are confident that they want a single speed specific wheelset.
Below are some really great units to consider:
Complete Single Speed Wheelsets
Let's be honest though, building a single speed wheelset takes time and frustrationcomplex spoke length calculations, or dishing out some of that hard earned cash to a custom wheel builder. Keep in mind that many off the shelf single speed wheelsets are already hand built. Only you can decide if you have the budget for a full custom build.
Complete MTB and dirt jump single speed wheelsets are few and far between nowadays, while you have endless options for fixed and flip-flop wheelsets. Check them out:
700c Track/Urban/SSCX Wheelsets
Single Speed MTB Wheelsets
Single Speed Dirt Jump Wheelsets
Still Have Questions?
If you want to know more or feel as though there is some important information missing, get in touch! Feel free to leave a comment below, on Facebook or Instagram!

Explore more trails and ride in style with our limited edition Ride More Bikes t-shirt.
Only $26.95