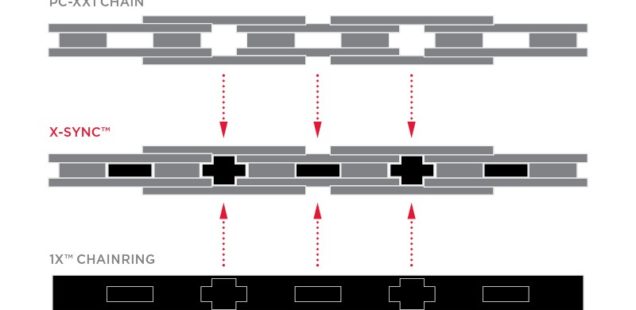 Single Chainring 1x Drivetrain Guide
Single chainring drivetrains are the latest and greatest in the mountain biking industry. SRAM's XX1 showed many that 1x drivetrains weren't just for downhill bikes but had applications on all mountain, trail and cross country bikes too. While other options have been on the market for some time now, not many niche brands have the marketing budget that SRAM and Shimano do, so it really took one of the major players to pave the way.
I'm making the assumption that if you are on this page you already know the pros and cons of a 1×11, 1×10, 1×9 or other single chainring drivetrains. To sum it up, the major benefits are mechanical reliability gained from ditching the front derailleur, less on the handlebars, weight savings and better chain wear. Negatives include more expensive components, less common components, a smaller gear range or higher jumps between gears. Of course there's many options, so results will vary.
So what are your current options for 1x drivetrains?
SRAM XX1/X01/X1
You'd have to be sleeping under a rock to have missed that SRAM are pushing 1×11 on the MTB market. Rightfully so, they have produced a high quality 11 speed drivetrain that works very well. There's been a few teething issues but on the whole this is a very smooth drivetrain that promises to be around for many years to come. Originally released in XX1 only, the tech has trickled down to X01. It's not unrealistic to assume that X9 and X7 groupsets will be offered in 11 speed before long.
XX1 and X01 both use SRAM's X-Sync Narrow Wide 1x chainrings which are said to engage the chain earlier than traditional chainrings, as well as help manage deflected chains, which is important on a wide ranging cassette. Coupled with possibly the biggest innovation in rear derailleurs in recently history, the clutch, SRAM suggests that their 1×11 drivetrain no longer requires a chain guide as dropped chains are unlikely. Real world opinions vary here – many friends and racers opt for a lightweight chain guide on their XX1 drivetrains because  a 50 gram guide is nothing compared to 30 seconds of trying to re-align a chain on a narrow wide chainring during a race.
Gear range on a SRAM X11 or X01 11 speed drivetrain is about as good as it gets for a single chainring drivetrain setup. With a cassette that ranges from 10-42T you're very well covered, just pick a chainring size to suit your style, strength and endurance.
Notable components in the here are actually the SRAM cranksets. While X-Sync chainrings are available between 28-38T, SRAM cranksets are perfect for using a spiderless chainring to save even more weight and scrilla. This is something I will touch on later.
Of course, all of this comes at a cost. Expect to spend at least $800 on a new X01 Cassette, Derailleur and Shifter. Keep in mind that you will also need a 1x chainring, an 11 speed chain and an "XD driver" which will replace your standard freehub body.
A cheaper alternative using most of the same technology is the SRAM X1 groupset. X1 will save you around $225 from the X01 kit and cost you exactly the same in weight gain (225g) depending on which crankset you choose.
Shimano XTR M9000 11-speed
While SRAM was the only player in the 11 speed market for a while, Shimano joined the party this year. Taking a different strategy to SRAM, Shimano have released the XTR M9000 groupset with single chainring, 2x, and 3x options. I'm not so sure there's huge demand for a 33 speed drivetrain, but it may be a good option for those considering an 11 speed drivetrain and want to be able to switch back to 2×11 if they find it doesn't work for them.
While the major differences are debatable, I see one of the most important to be the cassette size. Rather than require an XD driver, Shimano have stuck with a 11-40T cassette. This may mean those happily using an XX1 or X01 drivetrain may find climbs slightly harder or spin out on the descents. These things matter to some people and aren't a concern for others, but it's worth being aware of it.
Another notable difference of the XTR M9000 groupset is the cranksets. While the SRAM cranks are able to be used with a 28T chainring (with the appropriate spider or spiderless), Shimano only offers a 30T chainring as the smallest option, despite a custom (proprietary) BCD. While most Enduro racers would never consider running a chainring this small, those wanting to travel longer distances, or the ever growing female and youth markets may be concerned about the gear ratios for those gruelling climbs.
That said, Shimano's execution is typically flawless. If the gear ratios work in your favour and you have the cash (pricing TBD, but you know it's not going to be cheap), definitely check it out as an option.
11-40T or 11-42T 10 speed 1x drivetrain conversion cogs
Now that we have the common gear our of the way, lets take a look at the home brewed options for a 1x drivetrain conversion. Ultimately the name of the game is gear ratios here. You want a cassette with a wide enough spread to help you pedal up the steep climbs without having to spin out on the descents. For most people, this can be done cheaply, provided you are happy for a system that is slightly less perfect than something SRAM or Shimano directly provide.
By replacing one of the mid-range cogs on an ordinary 11-36T 10 speed cassette, it can be converted into either an 11-40T or 11-42T cassette. I won't go into the specifics of how to do this, as there are many threads and posts out there already, but if you are handy with tools a 1x drivetrain conversion is something that you could easily knock off in an hour.
1x drivetrain conversion kits are popping up everywhere. Some of the single cog options are available through:
OneUp Components
XKM Chainring
Wolf Tooth Components
HopeTech
Twenty6 Products
E.thirteen
Those concerned about alloy hub bodies being eaten to bits may find the original 42T conversion kit, Leonardi Factory General Lee a better option. They are harder to find and more costly than the single cog kits but would theoretically do a better job of spreading the load across the hub body.
Canfield Components 9T Microdrive
An option for a 1x drivetrain conversion that appears to have flown under the radar for a while now is the 9t Microdrive system from Canfield Components. By revisiting the Shimano Capreo system, Canfield Brothers have developed a simple solution to the 1x drivetrain gearing problem.
Allowing the use of a 9-36T 10 speed cassette gives a better spread than an 11-42T option. The biggest benefit of this system is the ability to run a smaller chainring, meaning shorter chain length and increased bottom bracket clearance. Theoretically with everything shrinking, weight should be looking pretty good with the 9T Microdrive setup – I do know that the 9-36T cassette is only 191g, very light compared to the SRAM XG-1195 at 275g.
The downside is that it's not a common system and if you don't live in the US, parts probably won't be able to get a hold of on race weekend. You'll have to rebuild your rear wheel with the new hub too which can be a costly exercise if you don't want to do it yourself.
It's uncertain if Canfield will be producing these in the future, so if you want one it's best to ask now.
1x Cranks and Chainrings
If you haven't picked up by now, single chainring drivetrains are a ratio game. Every different rider in different terrain has different requirements. I used to be a masher, then I realised I was destroying my knees. After years of trying to shake the habit, I finally learned to sit and spin. Most of my friends ride their trail bikes with huge chainrings – if you can do it great, but remember there are options if you can't.
If you want a Narrow Wide chainring in anything over 30T, you have loads of options. Aside from SRAM and Shimano, NW chainrings are available from the following brands:
RaceFace
XKM Chainring
Wolf Tooth Components
Works Components
North Shore Billet
If you are searching for a smaller or lighter chainring, you will have to go direct mount or "spiderless". The most popular cranks to run spiderless are SRAM's X0/XX carbon crankset family, however remember that they have cheaper alloy X9 alternative too. Weight for price, you pretty much can't beat a SRAM X01 carbon crankset, but if you are on the hunt for absolute weight savings or want something different, there's also the E13 TRS, RaceFace Next SL (my second pick), Specialized S-Works Carbon and the super light and beautiful but prohibitively expensive Tune Blackfoot.
If you stick with the SRAM family of cranks though, you can source direct mount Narrow Wide chainrings from many of the usual suspects. If you are on a budget, an X9 crankset and direct mount 28 or 30T chainring would make a standard 11-36T cassette very usable providing you don't often pedal hard down logging roads.
Rumour has it that in 2015 SRAM will be releasing a 26T chainring for XX1. I imagine this is for the fat bike market, but it could well be suitable for kids and those looking to pedal greater distances while still being able to make it up the climbs.
Direct Mount Front Mech Tab Covers
For those that can't stand seeing their direct mount front derailleur tab exposed, consider a front derailleur cover. 100% aesthetic, these do nothing other than keep your direct mount front mech tab concealed.
So there you have it, options galore whether or not you are wanting to convert your 1x drivetrain or buy one off of the shelf. If you find any more components or configurations please leave a comment below, I'd really like to hear about it!

Explore more trails and ride in style with our limited edition Ride More Bikes t-shirt.
Only $26.95