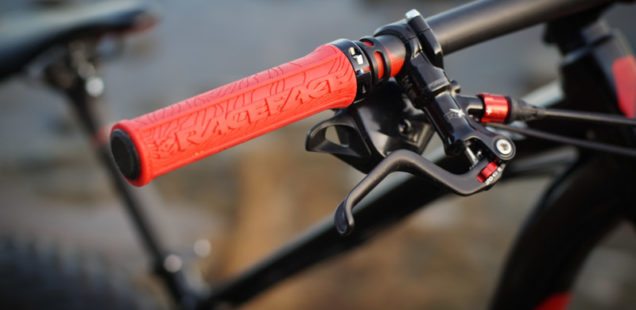 7 Best Mountain Bike Grips
Grips can make or break your biking performance – and the wrong grips can make you mighty uncomfortable. Today's grips are sturdier and more comfortable than ever, and if you're willing to do your research, you'll find a set that caters perfectly to your specific needs as a biker. Detailed below are a few of the best mountain bike grips 2016 has to offer:
Race Face Half Nelson Grips
Bikers often complain that grips work best after they've been used for months. With the
Race Face Half Nelson grips
, however, that thin tacky feel is available from the very beginning – no need to break them in! The grips also boast an eye-catching asymmetrical design. They work best with thin gloves, so invest in a good pair and get ready for exceptional grip.
ODI Ruffian Soft Compound Lock-On Grips
A half-waffle grip lends an appealing motocross feel to the
ODI Ruffian Soft Compound grips
. A knurled pattern gives the grips exceptional traction, with minimal potential for hand slip. The grips' durable end caps remain stubbornly in place, no matter the conditions. One thing to keep in mind, however, is that the grips have lock rings on the end, which may prevent some riders from placing their hands on the very outside of the grips. If this is not how you typically position your hands, it shouldn't be a problem.
Boxx Hex ODI Lock-On Grips
If your biking priorities include both style and performance, you'll love the
Boxx Hex grips
from ODI. Designed by biking legend Toby Henderson, these sleek grips feature distinctive end caps by ODI. Sturdy alloyed lock rings keep the grips in place, ensuring complete stability during long rides on difficult terrain.
Race Face Strafe Lock-On Grips
Keep hand fatigue to a minimum with the
Race Face Strafe grips
, which are soft and pliable, but also easy to grip. The diameter is a bit higher than on most comparable grips, but many bikers find that this improves cushion and comfort. The attractive grips come in a variety of bright colors.
Nashbar Mountain Lock-On Grips
Minimize throttling with a set of secure
lock-on grips from Nashbar
Mountain. The grips' two-bolt attachment system keeps slipping to a minimum. They have a simple, yet clean appearance that looks great in either black or white. Installation is quick and easy, especially for home mechanics. Best of all, these are some of the most
affordable mountain bike grips
on the market.
JensonUSA Lock-On Grips
If shock absorption is a priority, you will love the affordable
lock-on grips from JensonUSA
. Simple, yet effective, these budget grips are available in three attractive color schemes. They lock on easily and save weight, making your bike more efficient. Minimal twisting allows for a more stable – and more comfortable – ride, making these some of the best mountain bike handlebar grips for the money.
Brooks Slender Cambium Grips
The
Brooks Slender Cambrium Grips
have a unique design that will effortlessly attract attention. The weatherproof grips stand up to a variety of conditions. The eco-friendly bike grips are constructed from organic cotton and rubber, and held in place by reliable aluminum clamps. Although these grips are great for a variety of bikers, they are especially favored by eco-conscious bike commuters, who desire a practical, yet green solution for their everyday bike rides.
Choosing the Best Mountain Bike Grips
A variety of considerations must be kept in mind as you select your ideal mountain bike grips. Think carefully about the amount of cushion you want, as well as grip, durability, and style. The above options offer a nice mix of these and other qualities.

Explore more trails and ride in style with our limited edition Ride More Bikes t-shirt.
Only $26.95