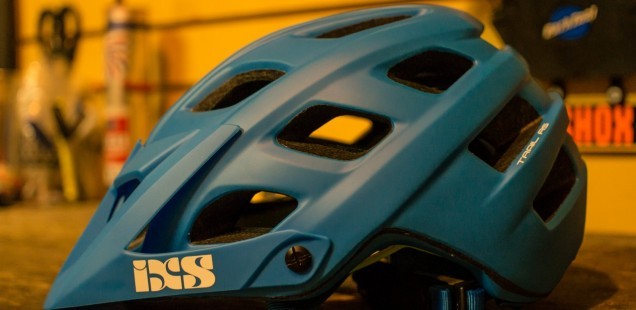 Best MTB Helmets for 2017
Troy Lee Designs D3

Helmets

Price: $450.00

More Info

661 Evo AM MIPS

Helmets

Price: $200.00

More Info

Urge Down-o-Matic

Helmets

Price: $199.95

More Info
Spend some time on a mountain bike and before long you'll learn first hand how important it is to protect your head. It's not always easy finding a helmet that fits your personal head dimensions, or breathes well enough for your local climate. Thankfully, helmets have improved significantly during recent times, not only providing increased levels of protection to meet certification standards, but also improved fit and comfort.
In this post, we'll investigate the Best MTB Helmets for 2016, in full and open face categories. Before we start, remember that the #1 thing to check for when buying a helmet is safety – is it certified and does it fit correctly?
Best Full Face MTB Helmet
If you're racing or riding regular downhill laps, you're going to want a full coverage downhill helmet. When it comes to full face MTB helmets, for the most part, the more you spend the lighter it will be. Spend a lot and it will walk the line between lightweight and maximum protection. On a personal level, I used to be all about lightweight helmets, but after my head hit the ground a few too many times I don't mind wearing something a little heavier in exchange for added protection.
If you are from a warmer climate or are wearing a full face for enduro racing, you're going to want to focus on ventilation too. From here, you can focus on the subtleties of each helmet. Some good things to consider are:
So let's look at some popular options…
Troy Lee Designs D3
Material: Carbon/Composite
Vents: 20
Weight: ~1130g
Sizes: X-Small, Small, Medium, Large, X-Large, XX-Large
MSRP: $450.00
Safety: Exceeds CPSC 1203, CE EN 1078, ASTM F1952, ASTM F2032, and ASTM F2040
Includes: Additional Visor, Storage Bag
For years, the TLD D3 was the king of the pack and it's not hard to see why. With the top of the line model available in carbon and a range of stand-out designs, the D3 was years ahead of the competition.
One thing I like about the D3 is that it comes with 2 visors. Ride downhill for long enough and you'll understand why that is important. With that said, the D3 never fit my head properly so I never had the chance to own one.
Fox Rampage Pro Carbon
Material: Carbon
Vents: 17
Weight: ~1145g
Sizes: Small, Medium, Large, X-Large, XX-Large
MSRP: $449.95
Safety: CPSC 1203, ASTM F1952, AS/NZS 2063:2008, EN 1078:1997 approved
Includes: Storage Bag
A Dri-Lex interior liner is said to wick moisture away from your skin to keep you dry. Given the Rampage Pro Carbon has 3 less vents than many competing full face helmets, you'd hope it works well. Fox claims the Rampage Pro Carbon is "the best fitting, most comfortable, high-end carbon fiber helmet on the market". We'll let the individual person wearing the helmet make that call.
The Rampage Pro Carbon comes standard with MIPS – a Multi-directional Impact Protection System. What is MIPS you ask? It was developed to reduce rotational forces on the brain caused by angled impacts to the head. Sounds good, but I personally place more value in the certification, so do some reading and decide on what you are happy with to protect your head.
If you like the stealth look, the Fox Rampage Pro Carbon in matte is a winner.
iXS Xult
Material: FRP
Vents: 20
Weight: ~1100g
Sizes: S/M, M/L, L/XL
MSRP: $349.00
Safety: EN 1078, CPSC 1023, ASTM F1952
iXS call their Xult a "cross over" full face helmet. Superseding the iXS Metis full face, the Xult was designed and developed with Cedric Gracia, and is meant for both DH and enduro racing. Without sacrificing safety, the Xult minimizes weight and maximises airflow – perfect for climbing those transfer stages. By using X-Matter energy absorbing material (the same as used in their knee pads) in high impact zones of the helmet, the iXS Xult helmet is said to absorb more force than traditional EPS full face helmets.
With anti-bacterial Coolmax material used to line the helmet, it's said that it won't stink (sounds like a challenge!). An emergency release pad system allows for safer helmet removal in case of a major crash. At $100 less than the high end competition, it's worthwhile trying one on if you get the chance.
POC Cortex DH MIPS
Material: Carbon/Polycarbonate
Weight: ~1000g
Sizes: S/M, M/L, L/XL
MSRP: $525.00
Safety: EN 1077B, EN 1078, CPSC 1203
The lighter weight of the POC Cortex DH MIPS helmet is achieved by using an Aramid liner inside the shell. This allows a thinner MIPS outer.
While I have never considered the POC to be a good looking helmet, its biggest selling point to most people I talk with is its smooth outer layer. In theory, by using a significantly lower number of vents to the competition, the helmet will slide across the ground during a crash much better than a helmet with sharper edges/more vents. I'm not sure I'd want to do too much uphill pedalling in it, though.
Urge Down-o-Matic
Material: FRP
Vents: 8
Weight: ~960g
Sizes: S/M, L/XL
MSRP: $199.95
Safety: CE1078 CSPC
Includes: Sizing pads for a better fit
Urge have always been big on the Enduro scene. At the time, their stand out round vents offered something that the competition didn't do so well – a cool helmet. The Down-o-matic is light – 960 grams light! A quiet performer, the Urge Down-o-Matic full face helmet doesn't have the bells and whistles that you'll see on the competition, but either clever marketing through use of pro rider Fabien Barel or the very different looks of the round vents has allowed the Urge Down-o-Matic full face helmet to be a popular choice.
Other full face downhill helmets worth considering include:
Best MTB Enduro Helmet
Fast becoming the new norm, extended coverage MTB helmets provide the convenience and light weight of an open face helmet with some added protection on the rear. I use the term loosely – they're designed for all-mountain and less aggressive enduro racing, but given the small weight increase, they are becoming increasingly popular for cross country weekend warriors.
Consider your options before buying an MTB enduro helmet:
Below are what we consider some of the best MTB enduro helmets…
iXS Trail RS
Vents: 22
Weight: ~320g
Sizes: S/M, M/L
MSRP: $119.95
Safety: EN1078 & CPSC
Adjustment: Ergo-Fit Ultra
You can't look into an extended coverage MTB enduro helmet without mentioning the iXS Trail RS. Developed with MTB adventurer Richie Schley, the helmet provides coverage somewhere between an XC helmet and a downhill helmet, while remaining lightweight and highly ventilated. The end result is the iXS Trail RS Helmet that you see here.
Kali MAYA
Vents: 12
Weight: ~350g
Sizes: S/M, L/XL
MSRP: $99.95
Safety: EN1078 & CPSC
Adjustment: Dual Closure
Coming in at a more affordable price is the Kali MAYA. If you have more of an oval shaped head, the MAYA may be the helmet for you. The Kali MAYA sports 12 vents, less than much of the competition but most likely unnoticeable unless you are in very hot climates. An integrated camera/light mount is a very handy addition to the visor.
661 Evo AM MIPS
Vents: 15
Weight: ~360g
Sizes: XS-S, M-L, XL-XXL
MSRP: $200.00
Safety: CPSC / CE
Adjustment: BOA FS360
If you need something in a less-than-standard size, take a look at the 661 Evo AM MIPS helmet. Available in a wider range of sizes than much of its competition, the Evo AM MIPS comes with a lot of technology that theoretically keeps your helmet well positioned and your head well protected.
Smith Forefront
Vents: 21
Weight: ~330g
Sizes: S, M, L
MSRP: $220.00-260.00
Safety: CPSC, CE EN 1078
Adjustment: VaporFit
Another helmet available with MIPS, the Smith Forefront is a serious step up in price over its competition. I'm going to describe the Forefront's 21 vents as "gaping" holes – combined with the use of "Koroyd" honeycomb lining, this has to be high on your list of considerations if you live in a hot climate. A goggle retention strap may actually make the Smith Forefront the best MTB enduro helmet. Serious.
Other open face all-mountain/enduro MTB helmets include:
Choosing the Best MTB Helmet
Like most things, choosing the best MTB helmet is a compromise. Your perfect helmet may be lightweight and comfortable while providing maximum protection for your riding discipline. If you are from a hot climate or are racing, you may want give a greater priority to a MTB helmet with increased ventilation. The right fit is key. Only you can make these choices. We recommend getting to your LBS to try on your top 3, or buy from an online store with a great return policy.

Explore more trails and ride in style with our limited edition Ride More Bikes t-shirt.
Only $26.95