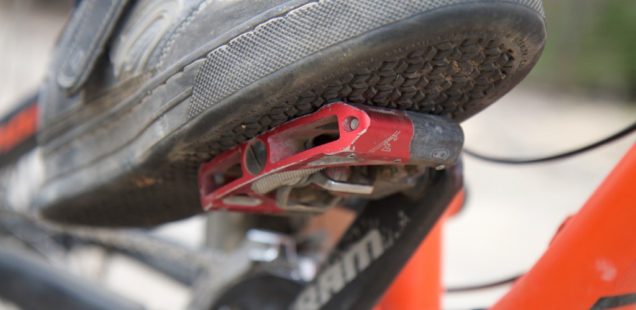 The 5 Best Mountain Bike Pedals This Year
Crank Brothers Double Shot Mountain Pedals

Pedals

Price: $59.99

More Info

HT Components T1 Pedals


Pedals

Price: $139.99

More Info

Crank Brothers Eggbeater 3 Mountain Bike Pedals

Pedals

Price: $134.99

More Info
To the uninitiated, mountain bike pedals don't seem like a big deal. But for dedicated bikers, investing in the best mountain bike pedals is imperative. Pedals affect control, balance, and grip — and the wrong set of mountain bike pedals could have a devastating impact on your performance.
The following options are all deserving of the title of best mountain bike pedals 2016:
Best Mountain Bike Platform Pedals
Platform pedals make it easy to bail when things go wrong. They also provide plenty of feedback and allow for huge gains in biking technique. However, slipping can occur while covering bumpy terrain.
The following are a few things to keep in mind as you search for the best mountain bike clipless pedals:
How well can you feel the terrain?
How likely are you to slip off of the pedals?
Are they compatible with your shoes and cleats?
Crank Brothers Double Shot Mountain Pedals
Weight: 395 grams (per pair)
Materials: Forged scm 435 chromoly steel axle and an aluminum body
MSRP: $59.99
Sick of going back and forth between the concept of clipped and clipless pedals? Opt for the
Crank Brothers Double Shot pedals
, which let you have it both ways. One side allows you to easily clip in, while the other is available for clip-free riding. High-quality bearings keep the pedals smooth in all terrain conditions.
Crank Brothers 5050 3 LE Mountain Pedals
Weight: 461 grams
Materials: Forged chromoly steel spindle and aluminum composite body
MSRP: $99.99
A practical and affordable option, the
Crank Brothers 5050 3 pedals
are lightweight, yet durable. Bearings from Igus and Enduro are designed to go the distance. At just 461 grams, the new 5050 3 model is significantly lighter than the previous version. Shoe compatibility is another notable advantage; the 5050 3 pedals work nicely with cycling shoes and non-cycling shoes alike.
---
Best Mountain Bike Flat Pedals
A good pair of flat pedals can deliver smoother pedaling and a greater feel of security. Cornering is easier, and on bumpy terrain, there's no fear of slipping off the pedals. The big downside is that quick unclipping can be difficult.
Keep these questions in mind as you search for the best mountain bike flat pedals:
How quickly do you anticipate unclipping your pedals?
What type of terrain do you intend to cover?
How efficient is your current pedaling?
HT Components T1 Pedals
Weight: 368 grams
Materials: Extruded CNC aluminum body and machined scm435 chromoly spindle
Release Angle: 13°
MSRP: $139.99
The options are numerous with
HT's flagship pedals
, which are available in eleven colors and with either chromoly or titanium spindles. The pedals are very thin, but they hold up nicely to major impact. Durability is also amped up by the EVO+ bearing system. Compatibility may be an issue for some riders; the pedals only work with HT's exclusive cleat system.
Crank Brothers Candy 7 Pedals
Weight: 320 grams
Materials: Forged scm 435 chromoly steel spindle, 6061-T6 aluminum body, and 300 series stainless steel springs
Release Angle: 15-20°
MSRP: $165.00
The
Crank Brothers Candy 7 pedals
are easily customizable. Their ribbed body provides exceptional traction when unclipped. Clipping is the way to go, however; once you clip in, you'll notice huge gains in stability and pedaling efficiency. Durability was a concern in the past, but Crank Brothers has addressed this with new seals that keep dirt and water out.
Crank Brothers Eggbeater 3 Mountain Bike Pedals
Weight: 278 grams
Materials: Forged scm 435 chromoly steel spindle and stainless steel body, springs, and wings
Release Angle: 15-20°
MSRP: $134.99
Pedal entry is exceptionally easy on the
Crank Brothers Eggbeater 3
model, which allows you to easily choose from four sides. Despite being incredibly lightweight, these mountain bike pedals are quite durable. Sealed needle bearings resist corrosion, and the spindle passes stringent European guidelines.
Choosing the Best Mountain Bike Pedals
No one option is ideal for all mountain bikers, so it is important to take your specific preferences into account as you make your final decision. Be sure to keep durability in mind, as you'll want a pair of pedals that holds up to heavy use in harsh terrains.

Explore more trails and ride in style with our limited edition Ride More Bikes t-shirt.
Only $26.95