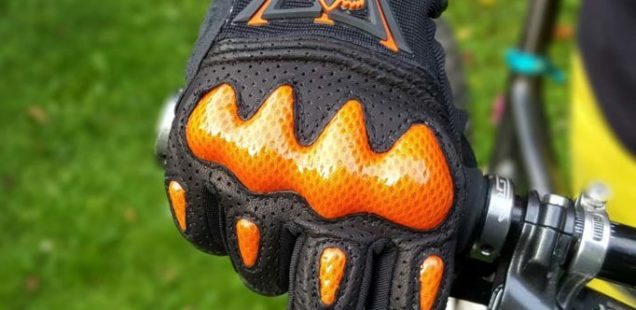 Best Mountain Bike Gloves
Fox Bomber Glove

MTB Gloves

Price: $54.95

More Info

Troy Lee Designs Ruckus

MTB Gloves

Price: $42.00

More Info

Giro DND Gloves

MTB Gloves

Price: $9.99

More Info
If you're going to be spending a good chunk of the day on a mountain bike you'll quickly discover the value of a good pair of gloves. Primarily they offer padding, protection, and comfort, but a little help staying clean never hurt either. Topside armor and padding can protect the knuckles, while improved support of the palms can help everything from your hands to shoulders and neck.
Choosing The Best Mountain Bike Gloves
The needs of a dirt jumper and a cross-country long-hauler vary drastically, but your preference of a minimalist design or more robust padding to dampen impact and vibration is a personal one. If you're in the market for the best mountain bike gloves, you need to consider a few things: your riding style, environment, and how you define comfort.
Giro DND Gloves
Price: $9.99

Emphasizing rugged simplicity, the
Giro DND
's are intended to be a seasoned rider's dream come true. Beginning with the material, Giro's Super Fit™ engineered AX Suede™ covers the palm, and is married to a breathable upper stretching in four directions to make for comfortable wear on all-day rides.
Additional Specs and Features:
Stretchable material makes for a snug fit with all hands
2mm EVA padding protects from bruising bumps
Pull-tab for easy on / easy off
Silicone finger grips to prevent slipping on handlebars or brake levers
Fox Bomber Glove
Price: $54.95

Built like a linebacker, these Fox gloves aim for maximum protection of the hands. With solid knuckle guards spanning the width of the hand, these gloves also feature leather uppers to guard against everything from passing brush to road rash on a tumble.
Additional Specs and Features:
Ample ventilation in topside leather
Full range of available colors matching race gear
Troy Lee Designs Ruckus Glove
Price: $42.00

Just like the name might indicate, these
Troy Lee Designs Ruckus gloves
are perfectly suited for a wild time. With TPR knuckle guards on the ring and and pinkie fingers, these guards also feature neoprene tops to keep your hands dry on the soggiest days. This is a good chance to invest in a waterproof phone case, because these gloves also features touch-capacitive fingertips to work with a smartphone screen.
Additional Specs and Features:
Non-slip silicone tips on braking fingers
Embossed faux-suede and leather palm with padding
Seamless fingertips to improve comfort and do away with pinching
Available in three colors
POC Resistance Strong Glove
Price: $65.00

The POC Resistance Strong
is an ideal blend of comfort and protection, with breathable nylon fabric, and the flexible VPD System on the knuckles to lessen impacts. The palm features silicone padding along the heel and ball of the hand, which promote breathability, with ceramic coating on the top and fingers to limit abrasion damage.
Additional Features and Specs:
Available in Red / Gray, and Black / Green
Touch-screen capacitive fingertips
Silicone finger tips to for brake lever grip
Terry fabric on the topside of the thumb for dirt and runny noses
Alpinestars Performance Gloves
Price: Price: $44.95

The
Alpinestars Performance gloves
deliver on their promise, as one of the best fitting gloves to offer hard knuckle protection. By putting neoprene, Spandex, leather, and synthetic suede to work throughout the glove, the fabric choices maximize durability and comfort where they're needed most.
Additional Features and Specs:
Fingertip padding for both comfort and protection
Silicon fingertip grips for non-slip brake lever control
Terry cloth patch to wipe away dirt and mud from your face and goggles
---
Best Fingerless Mountain Bike Gloves
Fox Ranger Short Gloves
Price: $9.95

Those who value ventilation and adaptability will appreciate these
Fox Ranger Short Gloves
as some of the best fingerless mountain bike gloves of the year. These are a great pair of warm weather gloves, as the fingerless design, breathable uppers, and minimalist wrist closure make for a great three-season set.
Additional Features and Specs:
Available in two colors
Double-layer palm for improved mobility
Alpinestars Pro-Light Gloves
Price: $27.95

The
Alpinestars Pro-Light Gloves
are the epitome of comfort on the mountain. Made of light-weight, breathable fabrics with a padded gel palm, these are the equivalent of a drop-top Cadillac.
Additional Features and Specs:
Mesh fabrics for great ventilation and moisture wicking
Terrycloth patch for wiping of noses, goggles, and phone screens
Pull-tabs on each finger for easy removal

Explore more trails and ride in style with our limited edition Ride More Bikes t-shirt.
Only $26.95