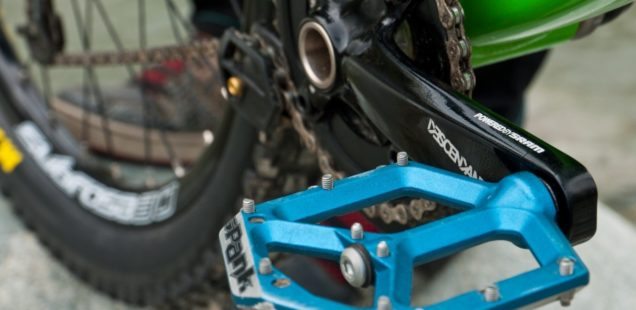 Spank Spike Pedals: Long Term Review
Released in 2011, the Spank Spike Pedals filled the gap between budget brands such as Superstar Components and the nice but prohibitively expensive Point One Podium. The Spike Flat Pedal pushed the limits of Keith Bontragers famous quote, "Strong. Light. Cheap. Pick two."
I have been using the Spank Spike Pedals on my bikes since their release for downhill, all mountain, cross country and street. When I gave my last Spank Spike Flat Pedal review I had used them for about two months of Whistler abuse on my 2011 Transition TR450, however I really wanted to revisit my original words now that I have been on them for over two years.
When I first sat down to revisit my review on the Spike flats, I was stuck for words. "They just work", I thought. I have ridden thick pedals, thin pedals, SPD and flats. Further to this I have worked on my own bikes, my wife's bikes, my mother's bikes and random friends' bikes for years now. I'd like to think I know junk when I see it and quality when it proves the test of time (and abuse). To me, Spank Spike Flat Pedals are definitely the latter.
My blue Spike flats survived the abuse of Whistler, Queenstown and Adelaide trails. While the first two places are blessed with plenty of groomed trails, there are plenty of rough trails options for those who go looking. In Adelaide you basically don't have a choice – at best you will find rocks somewhere on your ride, but more likely you will be riding a trail littered with rocks for the entire descent. To me, rocky trails spells pedal abuse – if you can avoid smashing the pedal body to pieces, chances are your bearings will be toast before long. My Spike flats have survived this fate without any more than cosmetic damage despite a general lack of maintenance on my behalf. After two years the pedals suffered some superficial scratches and I only lost one pin from the pair, probably due to lack of maintenance.
On the trail – "they just work". I don't want a pedal that "provides 80% more lateral grip" or whatever some guy on a forum somewhere has to tell me. I want to ride down a flow trail and get stoked, or pin it through a rock garden and concentrate on the trail rather than keeping my foot on the pedal. This is the strength of the Spike pedals, they have always done their job extremely well and have never let me down. Consistent.
Not once have I eaten my shin with these pedals – for reference, that is while wearing the super grippy FiveTen Freeriders, the less sticky Teva Links, or a pair of hard compound "not made for riding bikes" Osiris high tops. Whether this is due to clever pedal design and plenty of pins or Spank's "Inboard Friction Seal" which stops the pedal from madly spinning when other pedals would, I don't know. Quite frankly, it brings me back to a modified version of my original thoughts on these pedals – "I don't really care, they just work".
All in all, I'm not convinced you can beat the Spike pedals when it comes to durability, weight and price. For those less concerned about price and more about weight, Spank will shortly be selling a Titanium axle and pins for these pedals, dropping around 65 grams off of the already svelte 400 grams that the standard pair weigh. I will do my best to show you these when they become available.
For the official info on the Spank Spike Pedals and for the rest of the Spank range, check out http://spank-ind.com.
UPDATE: The Spank Spike Flat Pedals have been updated for 2015.

Explore more trails and ride in style with our limited edition Ride More Bikes t-shirt.
Only $26.95