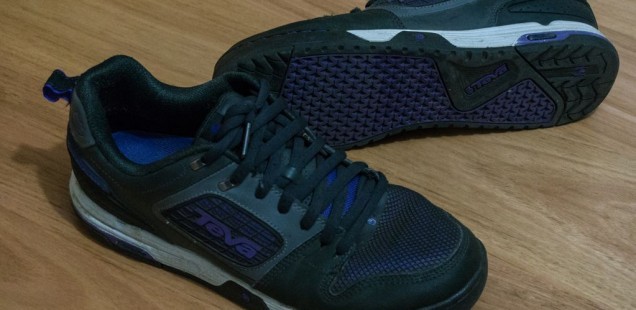 Teva Links MTB Shoe
The Teva Links shoe was released onto the market in 2011, designed to target freeride mountain bikers using flat pedals. I was lucky enough to pick up a pair around the time of release, but always wanted to do a long term review rather than a "first impressions" post. The Teva Links has been designed and developed with significant input from Jeff Lenosky, an urban freeriding veteran. This design aimed to incorporate good looks while being suitable for use while dirt jumping, downhilling, at the skate park or on the trails.
Teva Links Sticky Rubber Sole
The Teva Links feature a sole made from "Spider 365" sticky rubber, which is Teva's competing rubber to Five Ten's "Stealth". Prior to the Teva Links, I rode with a pair of FiveTen Freerider shoes and can honestly say that the Stealth rubber is stickier than Teva's Spider 365, but on the bike this doesn't make a huge difference providing you are using quality pedals. This is likely due to the directional and otherwise grippy tread pattern known as "Teva Innovative Design Elements", or T.I.D.E. – designed specifically to keep your pedal centred underneath the shoe. The Links are without a doubt the stiffest soled flat pedal shoes I have ridden in, meaning minimal flex, which is my preference for biking shoes – after all, there is a reason why many SPD shoes use such a hard sole. For fun riding, I much prefer the Teva Links rubber, as I can shift my foot around much more easily, however if you are going flat chat on a race run, you will want to test both Teva and FiveTen before deciding on a suitable option. If there was a combination shoe that provided the super hard sole with super sticky rubber it would be a no brainer.
Teva Technology
The Links include a shock-absorbing heel stabilizer, along with solid rubber panels and a strong body ensuring that heels are extremely well supported and protected. The rest of the shoe is well built for mountain biking use – I have never hurt my feet while wearing these shoes and my ridiculously grippy Spank Spike pedals seem to have done little to no damage to them.
Ion-Mask Technology keeps the Teva Links dry when it's wet out. Teva have a long history in making waterproof shoes (in fact I recently used some of their waterproof shoes while hiking through New Zealand) and this knowledge isn't wasted on the Links. They still breathe, but so long as you aren't keeping the shoes submerged or spending the entire day in the pouring rain, chances are your feet will finish up dry and toasty. Off of the bike it is surprisingly easy to keep these shoes clean, which I assume is again due to the waterproofing. I have trashed these things in the mud and yet somehow after a few more wears they are mostly clean again. I didn't clean my shoes before taking the photos you see along with this post.
I have heard complaints that the toe cap of the Teva Links can get quite hot. Designed to be super hard wearing, they feature more rubber than your usual shoe. That said, I have spent a lot of time wearing these shoes in Adelaide, South Australia, where it is not unusual to hit 44°C (111°F) in the Summer and I have never experienced this feeling. My only real concern is that the inner heel of my shoes have shown signs of wear. This is a fairly common occurrence in all of my shoes, mainly because I slip them off and on rather than undoing my laces. I recognize that this would either not occur or would occur less if I did untie my laces every time I put on/off my shoes, however it may be a good area for MTB shoe makers to improve their designs – when you are sliding knee pads off and on during the day, there is no way I intend on using my laces as intended any time soon.
All in all, the is a decent contender in the flat pedal shoe market, but I do have to sat that the best mtb shoe for flat pedals is still the FiveTen Freerider. Perfect to ride in yet "normal enough" to wear around town or to the pub. As far as fit goes, they tend to run a little slim on their width – if you have wide feet I would probably recommend the FiveTen Freeriders, however if you have skinny feet you will probably be in heaven. If you are somewhere in between you will be fine.
For more information, check out the Teva website at http://www.teva.com.
Teva MTB no more, but deals of the century
2015 Update: Teva are going to discontinue their MTB shoe line. This means their shoes are selling for ridiculously cheap prices. It's a shame to see the brand leave the MTB market, but you may as well make use of the deals!

Explore more trails and ride in style with our limited edition Ride More Bikes t-shirt.
Only $26.95