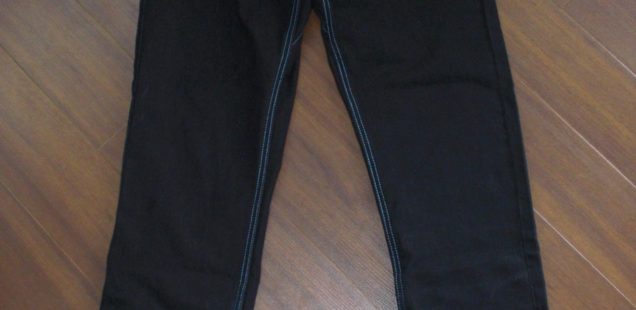 Demon Dirt Black Plague Jeans
Demon Dirt's Black Plague Jeans are one of those products that just "makes sense". Made from Coolmax rip-stop nylon and denim, these jeans are breathable, incredibly stretchy and are tough!
It doesn't really make sense why it's taken so long for a brand to start making jeans like the Black Plague Jeans – BMX riders, dirt jumpers and street riders have been wearing jeans while riding bikes for years, and downhill and slopestyle riders are now doing the same.
The Demon Dirt Black Plague Jeans are built to last. Using rip-stop nylon and denim, they aren't going to tear any time soon. More importantly though, they feature a gusseted crotch – anyone who has worn jeans on a bike before will know that this is the most likely area to wear first.
An interesting "no brainer" feature of the Black Plague Jeans is the in built shin pads. Why this hasn't been done before I have no idea, but it is one of those features that I know I will get value out of. While downhill mountain biking I rarely strike my shins on the pedals, but after spending a few days at the Whistler Bike Park Air Dome, my shins were trashed! The shin pads are ultra thin and mouldable. They'll stop puncture wounds, but you'll still get that shin pain that makes you want to abuse your bike. The shin pads are 100% removable, so if you're washing the jeans or don't need the protection, ten seconds later and they are out.
Another cool feature of the Demon Dirt Black Plague Jeans is the custom back pocket. One is "full sized", while the other only looks the same – inside it is actually smaller, designed to fit your cell phone or MP3 player.
On top of all this, the Black Plague Jeans simply look good, and they are comfortable as hell. There are loads of stitching options – Krey Blue, Nightmare Purple, Black Dahlia, Chlorophyll Sea Foam Green and right now, the Casey Groves Signature White.
All in all, the Demon Dirt Black Plague Jeans are a sick pair of pants for a good price. Designed to last with some cool features too!
For more information on Demon Dirt products, check out their website at http://www.demondirt.com.

Explore more trails and ride in style with our limited edition Ride More Bikes t-shirt.
Only $26.95