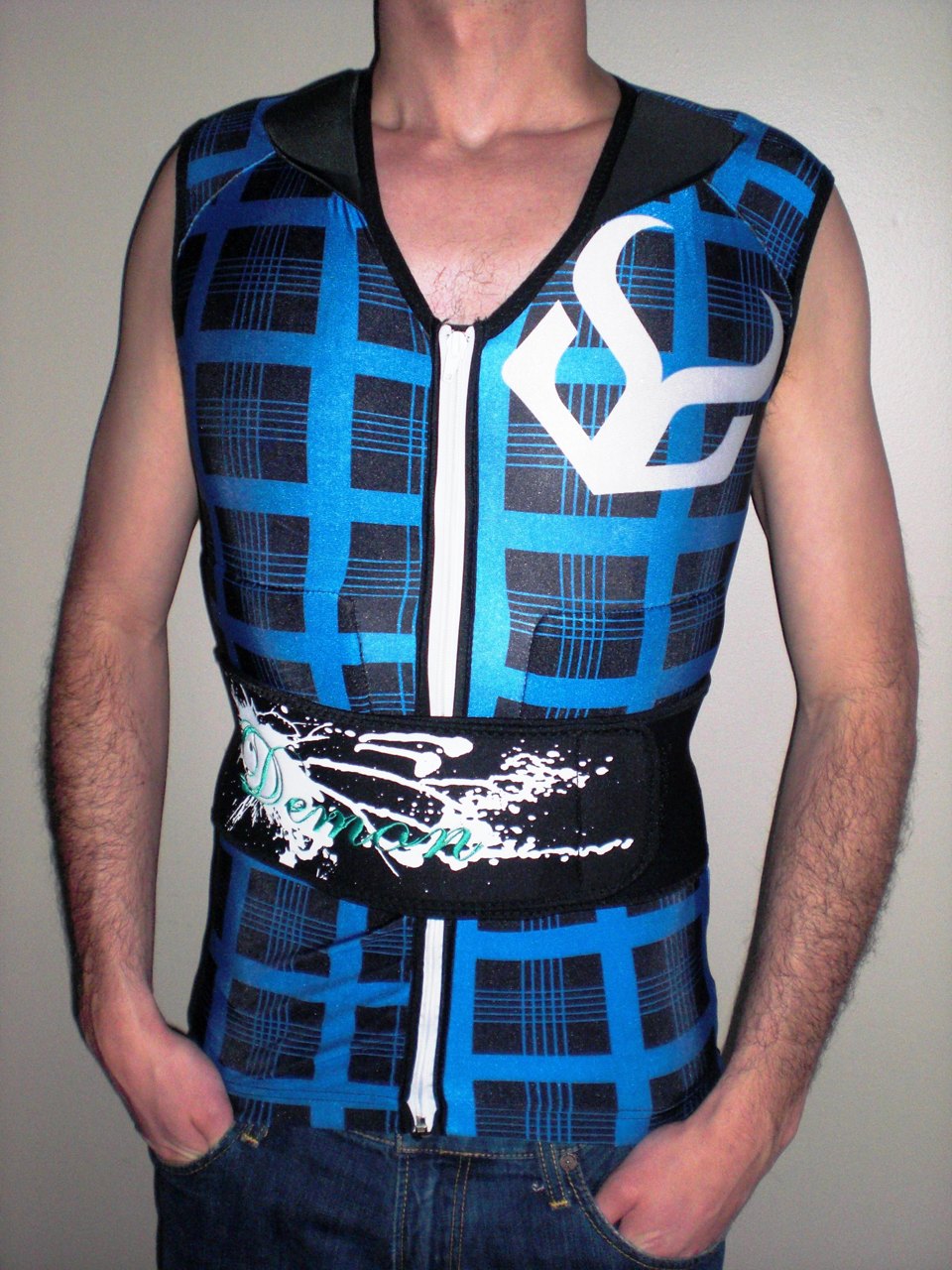 Demon Dirt Leviathan Half Suit
Demon Dirt might well be on to something with their Leviathan Half Suit. Providing "soft" amour to the rider, its main purpose is to protect the spine but as you will find out, there are some other cool features thrown in.
Stand at the base of the Whistler Bike Park during Summer for ten minutes and pay attention to what people are wearing. Riders of all ages, shapes and sizes. When it comes to armour, there's two very distinct groups of riders. The more "old school" riders tend to ride with a hard pressure suit, and full knee and shin pads. The other camp typically wears soft knee pads and maybe a neck brace. While some fashion comes into play, ultimately it comes down to the riders' confidence in their ability and whether or not safety comes before comfort.
Demon Dirt have clearly seen this "new school" mentality and aimed its Leviathan Half Suit at this demographic. Last year I spent most of my leisure time riding in the Bike Park with a set of soft knee pads, gloves and a helmet. While I was comfortable riding with a small amount of protection, from time to time I'd have a stack and consider the possible injuries that may have occurred.
I've tried to wear a hard plastic pressure suit in the past, and essentially it was nothing more than a waste of $150. I wore it half a dozen times and got rid of it because I was more prone to crashing due to being uncomfortable. My decision to ride with the Leviathan Half Suit was based on the fact that I would actually wear protection if it was comfortable, and even if it is less effective in a crash, less effective armour is more beneficial than armour that is sitting in a wardrobe at home.
Lets look at the features of the Demon Dirt Leviathan Half Suit:
Spine and tail bone coverage, in the form of three pieces of shock absorbing foam.
Kidney/liver belt
Lower rib protection, in the form of foam stitched into the suit
Deep V-neck to reduce choking
Leatt Brace compatible with foam collar bone pads
The spine and tail bone coverage gives the rider the option of removing foam pieces to provide varying amounts of protection. To be perfectly honest, I only ever intend on riding with all three, as any less seems like a bit of a waste of time. That said, it's always nice to have options.
Given that I plan on wearing a neck brace this year, it's great to see that the suit has been designed with the Leatt Brace in mind. The foam collarbone pads in theory help reduce the common problem of bruised collarbones on those wearing a Leatt Brace. I'm told to make it work with the neck brace the spine protector foam needs to be trimmed away. At first it was disappointing that I would have to do the work, but I recognize that with so many options on the market nowadays, it must be hard for these guys to design a "one size fits all" solution.
The Leviathan Half Suit is certainly built with slimmer riders in mind. I don't consider myself overweight, but I'm certainly not as slim as I could be after my first Canadian Winter. While it fits great elsewhere, it's a tight fit around the waist.
Personally I would have liked to see a small amount of upper rib protection. I'm guessing the theory is that many people have enough muscle in front of the upper ribs that protection isn't a big deal. For those of us who don't, the ribs are a little exposed.
Looks wise it's pretty sweet for armour. It's a bit too fashion conscious for some, but at least you don't look like a Stormtrooper when the weather is too hot to wear a jersey over the top. It's also cut nice and low too so it will hang over your pants or shorts.
Similar to the POW gloves I bought recently I did have to do a little tidy up on some of the cuts of the fabric. Maybe I pay too much attention but the first time I put the suit on I was itching all over. A few minutes with the scissors however and it's super comfortable now.
I'm really looking forward to seeing how well the Demon Dirt Leviathan Half Suit holds up after a crash, let alone after a season of riding. I'll keep you updated with how it goes. Thanks for being patient with my modelling skills, or lack thereof!
For more information on the Demon Dirt Leviathan Half Suit, check out the Demon Dirt website at http://www.demondirt.com.

Explore more trails and ride in style with our limited edition Ride More Bikes t-shirt.
Only $26.95