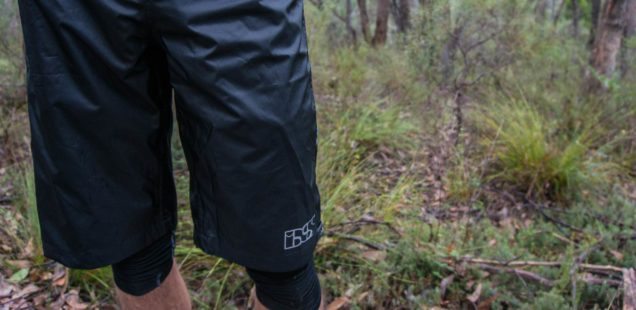 iXS Nepean Rain Shorts
I found the iXS Nepean Rain Shorts while preparing for a hiking trip. "Why would you want rain shorts? Why not go with pants?" the local hiking stores asked. Waterproof pants just don't work for me, my body runs way too hot for them and before long I end up soaked with sweat underneath my nice safe waterproof layer. I had waterproof gaiters and shoes already, so water on my shins wasn't a concern for me.
Waterproof Shorts
Rain shorts appear to be a product that manufacturers offer sporadically rather than permanently – at the time I really did have trouble finding what I wanted despite my simple requirements. I just needed the shorts to:
be waterproof, keeping my waist, hips and upper legs dry
be lightweight and fold down as small as possible
be simple, the last thing I wanted was "features" that could fail in the middle of the backcountry
When I discovered the Nepean shorts, they ticked all the boxes and when I received them I realised that they were even more lightweight than I had hoped. As far as I am concerned, in hiking or bikepacking, space and weight  is the name of the game.
Review and Impressions
How are they on the bike? Awesome. The first time I looked at them I wrongly assumed they wouldn't fit over my mountain biking shorts. Not only do they work over my iXS Ferm shorts, but also some of my older biking shorts from other brands. Somehow they look slim, but they can fit MTB shorts underneath (obviously depends on the fit and length of your existing shorts). I've also worn them with 3/4 knicks and they are great once you get used to that bare skin feeling the roadies love.
A grippy panel across the back and an elastic waist band keeps the shorts where you want them and rain out. Leg hems are adjustable but I rarely change them from the "open" position. Reflective details are handy if you're on the road at night on the way home from the trail head.
There's not much more to say about the iXS Nepean Rain Shorts. They are light and they work. Simple as that.
For more information on the Nepean Rain Shorts or the rest of the iXS Sports Division range, check out their website: http://www.ixs-sportsdivision.com. If you're looking to buy online, check out: http://www.jensonusa.com/iXS.

Explore more trails and ride in style with our limited edition Ride More Bikes t-shirt.
Only $26.95