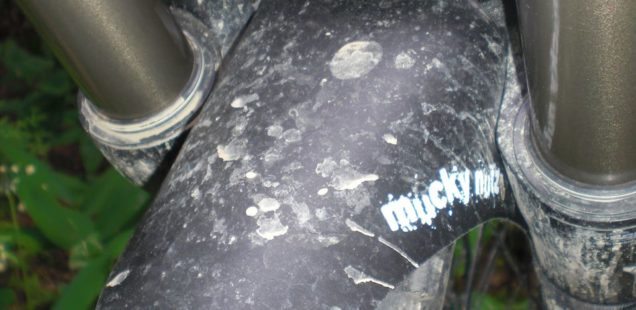 Mucky Nutz Bender Fender 2.0
The Mucky Nutz Bender Fender 2.0 is about as simple as a bike mudguard can get. The fender's clever design makes it super lightweight (16g) while incredibly effective, easy to install, cheap to post, and suitable for just about any type of fork.
Given the ridiculous amount of snow in the Whistler Bike Park during Spring, it was clear that we would be off to a muddy start to the season. I pulled the trigger on some Mucky Nutz Bender Fender 2.0's for my Transition TR450, and my wife's Transition Syren.
Installing the Mucky Nutz Bender Fender
The Mucky Nutz Bender Fender 2.0 mudguard comes with instructions and enough velcro to mount the fender to your fork. Mucky Nutz claim that the Bender Fender 2.0 "stops any muck, horse, cow and dog s*** from being flung into your face", and I have to say they aren't kidding. For the few days that I was riding without a mudguard this season, I was pretty used to cleaning my goggles after each run. It took me a few days to realize after installing the Bender Fender that I barely needed to clean my goggles at the end of the day, let alone after each lap!
The Bender Fender mounts up perfectly to my Fox 40 and my wife's 36 Talas, and I've seen them mounted to all different forks in the park this year. What I like about the Bender Fender is that there are no moving parts – no play in the guard at all, meaning that when you remove the fender there is no wear on your lowers whatsoever. A noticeable improvement over the popular "tube and some zipties" guard is that nowhere near as much mud is flung up onto your stanchions. I'm not claiming increased fork seal life, but it's something to consider.
Rear MTB Fender
I ordered an extra Bender Fender to see how well it would mount to the rear of my TR450, similar to the fenders that were fitted to a Santa Cruz V-10. It looks great and mounts well, but I'm not sure it's as effective on the rear as it is on the front. Still, for 16 grams and around $12, it's not as though it's weighing you down or breaking the bank.
Not much else to write really! The Mucky Nutz Bender Fender 2.0 is cheap, simple and it works. If it's muddy where you ride, I can strongly recommend trying one of these!
For more info on the Mucky Nutz Bender Fender 2.0 check out their website at http://www.muckynutz.com. They are for sale in North America through Jenson USA!

Explore more trails and ride in style with our limited edition Ride More Bikes t-shirt.
Only $26.95