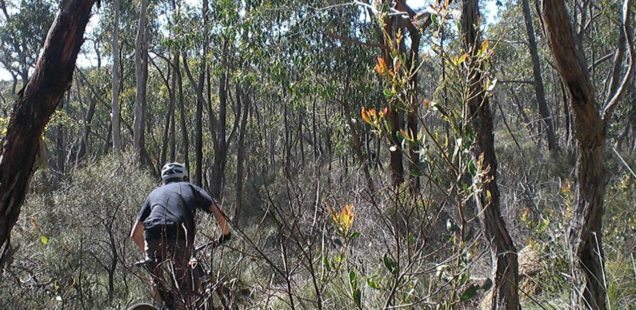 Eagle Mountain Bike Park
Eagle Mountain Bike Park in Adelaide, South Australia is probably the best known trail centre in the city.
The park is one of the most accessible, legal mountain biking locations in Adelaide and includes a generous trail network that caters for a variety of mountain bike disciplines and abilities. Beginners be warned though – fitness will be more of a challenge than a lack of skill. Born with approximately 21kms of cross country trails, one downhill trail, a token "skills development" area, dirt jumps and a trials area, the park has changed for the better and worse over the years. Eagle MTB Park typically suffers periods of neglect in between events, only to receive a surge of energy to prepare for an upcoming event.
After spending quite some time away from the country, I am happy to report that Eagle Mountain Bike Park has really changed for the better. Although the dirt jumps and trials area are as good as abandoned, the park now includes a 4x and pump track. The cross country trail network is slowly growing, with the nature of new trails changing from super technical to the more popular flow style. As a result, the park now contains some challenging rocky terrain, tight switchbacks and loose, rutted trails, but also some faster, "let your hair down" stuff too.
Built on an abandoned quarry, many trails at Eagle MTB Park are sandy and rocky. During Summer, the local habitat and it's orientation in the Mt Lofty Ranges make it a fairly unforgiving place to ride. I'd recommend that anyone heading to Eagle in Summer bring plenty of water, and stick to the sheltered trails to avoid the sun. For those visiting from abroad, keep an eye out for snakes – no need to be alarmed, just give them space if you spot one.
Eagle MTB Park Access
Personally, I think Eagle is best ridden during Winter. The sandy trails drain fast and cope the Winter abuse well, while the bush habitat that surrounds you just glows in the rain and fog.
Main access to Eagle Mountain Bike Park is via Mt Barker Road, in Leawood Gardens, 12km from Adelaide CBD at the Pastor Kavell lookout. You will see the signs directing you there from the Adelaide to Crafers Highway. For Adelaide locals, it's up the "old freeway". A second entrance is located at the top of the park with access from Hawk Hill Rd in Crafers however parking should be at the base of Charlick Rd at the very closest in order to keep the locals on side.
Suggested MTB trails at Eagle Quarry
Beginners
Aimed towards "skilled beginners", enter via the Crafers entrance of Eagle MTB Park and take Hawkeye, down Eagle Way (access road) into Southside, taking the right hand turn when Southside splits in two. You'll finish up next to On the Verge, where you can cut across the road and jump into Tunnel Vision and do as much or as little as you like. If you are really green, you can exit Tunnel Vision up some switchbacks to your right, just after you pass under some power lines. Then just pedal back out of the park via the access road again.
Intermediate/Advanced
For a longer loop suited to more advanced riders, enter via the Mt Barker Rd entrance, take the fire road and drop into Top Deck. You will be spat out onto Valley Road – turn right, cross the bridge and begin ascending Valley Trail. Ride under The Mixer to the mezzanine and take your pick – if you need a breather, ride the access road, otherwise head up North Face. Continue up Tunnel Vision, then loop around Hawkeye and begin your return down Southside. For tech, take a left at the split, for flow, take a right. Descend down Sunset Boulevard avoiding the ruts, down Overlocker and around Blue Gums before returning on Valley Road again, climbing back out of the park via Top Deck again.
Eagle MTB Park Downhill Trails
Eagle quarry isn't the best place for downhill mountain biking  as it is inevitable that you will end up in a valley. There is no simple way to shuttle the trails aside from club run race and practice days.
That said the trails are good value with some reasonable sized jumps, fast loose wide open sections, rock gardens and decent drops. "The Mixer" is theoretically the only purpose build downhill trail in the park, but others can offer some cheap thrills too. Here's a good video of an Inside Line Downhill MTB race run.
Eagle Mountain Bike Park was and still is a labour of love for a lot of people. Politics, a lack of foresight, our litigation filled world and petty arguments almost saw this land wasted, but thanks to the individuals determined to see this park open, the mountain biking community of Adelaide have a great place to ride legally. A big thank you to all of those involved in making this place a reality and for keeping it amazing.
Want more information on Eagle Mountain Bike Park?
Official updates and map of Eagle MTB Park: http://www.recsport.sa.gov.au/whats-on-where/eagle-mountain-bike-park.html
Adelaide MTB Trails have some great info: http://adelaidemtbtrails.com/eagle-mtb-park/

Explore more trails and ride in style with our limited edition Ride More Bikes t-shirt.
Only $26.95